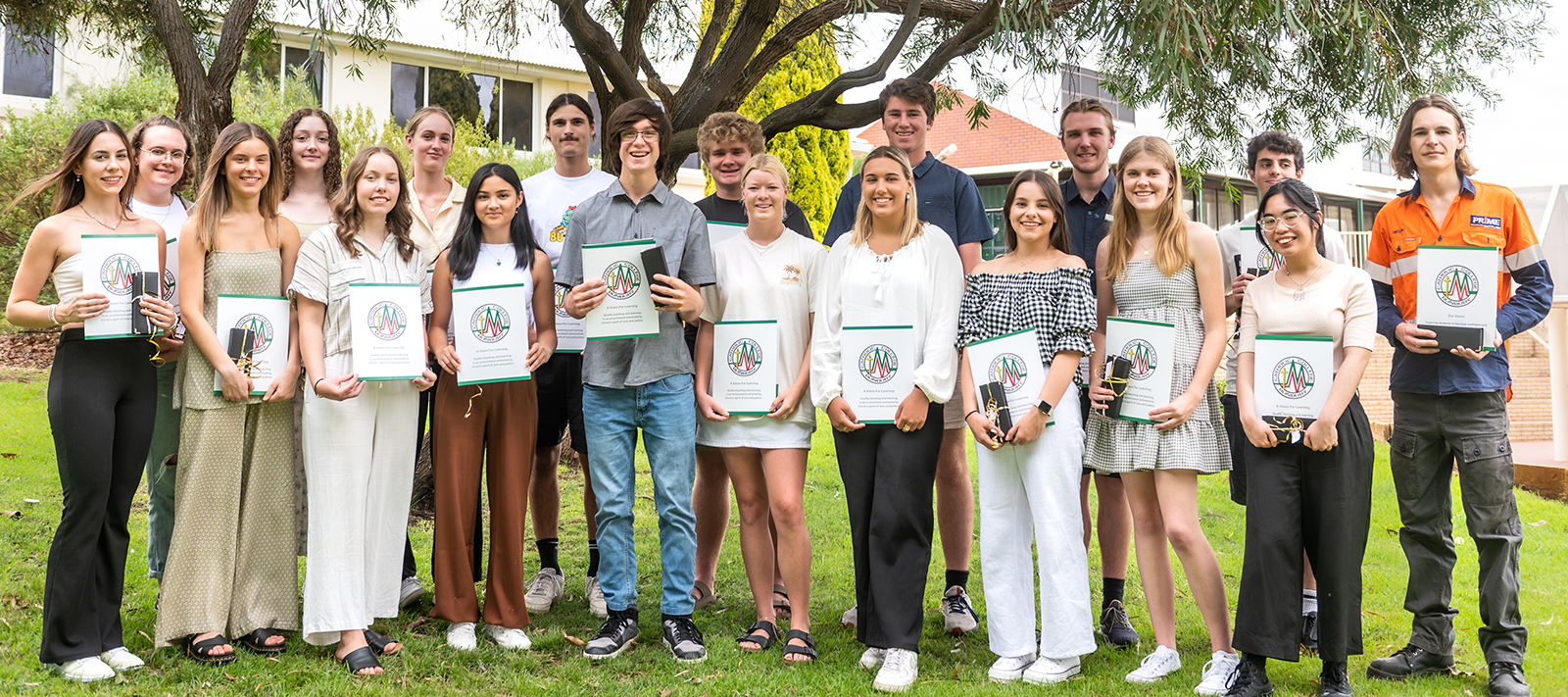 Our Year 12 students achieved many excellent results in 2022.
Congratulations to Thomas Hogan who scored an ATAR of 97.8, reaffirming his award as Dux of Bunbury Catholic College for 2022.
Fourteen of our students achieved an ATAR above 90 and, nine of these students achieved an ATAR above 95. A number of our students were recognised for their outstanding achievement by the School Standards and Curriculum Authority (SCSA), with one student achieving a certificate of Excellence, nine students being awarded a Certificate of Distinction and six students being awarded a Certificate of Merit.
Of the 110 Year 12 students who completed Year 12, the WACE Graduation rate for Bunbury Catholic College was 90%. The Median ATAR of Bunbury Catholic College was 83.3.
Of the 23 Year 12 ATAR courses offered by the College in 2022, 13 courses achieved a mean higher than the State mean. These were:
Biology, Chemistry, Dance, Earth and Environmental Science, Economics, English, Human Biology, Literature, Maths Specialist, Modern History, Politics and Law, Psychology and Visual Art
In addition, Bunbury Catholic College was listed among the highest performing schools (for courses which had Year 12 ATAR course combined scores in the top 15% of all students in the course) for English and Biology.
Students achieving 95+ ATAR Results
Thomas Hogan
Lara Turkington
Bea Te
Michela Villani
Daniela Cox
Maya Lubcke
Laela Spiers
Mary Hynes
Alexander Ierace
Students achieving 90+ ATAR Results
Jasmine Pelusey
Jake Michell
Lily Murphy
Samantha Nicholas
Declan Wilts
School Standards and Curriculum Authority (SCSA) Awards
Certificate of Excellence
Certificate of Excellence are awarded to students achieving in the top 0.5% of each ATAR subject. Congratulations to Maya Lubcke who was awarded a Certificate of Excellence in English
Certificates of Distinction
Certificates of Distinction are awarded by SCSA to each eligible student who, in their last three consecutive years of senior secondary school WACE enrolment, accumulates 190-200 points. Congratulations to:
Daniela Cox
Thomas Hogan
Mary Hynes
Maya Lubcke
Lily Murphy
Jasmine Pelusey
Bea Te
Lara Turkington
Michela Villani
Certificate of Merit
Certificates of Merit are awarded by SCSA to each eligible student who, in their last three consecutive years of senior secondary school WACE enrolment, accumulates 150-189 points. Congratulations to:
Bella Creswell
Alexander Ierace
Jake Michell
Samantha Nicolas
Khye Skoda
Laela Spiers